Best Barcelona Day Tours and Small Group Tours 2017


Barcelona Small Group tours to Top sights and attractions outside Barcelona with hotel pick-up and drop off at most Barcelona hotels. DayTripsBarcelona is a small local family business in Barcelona. We offer friendly, signature tours which offer our guests high personal attention and service.

DayTripsBarcelona.com offers Day tours, Half-day tours, Barcelona Wine Tours and Private Tours from Barcelona in very small groups by mini-van and with personal pick-up and friendly personal service.

Let us show you the most beautiful and interesting places outside Barcelona city.


Barcelona Small Group Tours. Unique and special experiences outside Barcelona. Day trips Barcelona offers high quality small group tours from Barcelona to sights, mountains, beaches, attractions, restaurants, adventure sports and ski stations outside Barcelona, Spain.


Small Group Day Tours & Half-day Tours from Barcelona


Costa Brava Tours from Barcelona




Barcelona Private Day Tours

We offer private versions of our standard Barcelona small group day tours. This is perfect for small groups of family or friends who want a day out of the city at a beautiful destination near Barcelona. Choose from our range of great value Barcelona small group day tours and half-day tours and ask for a price for a private group.

All our private tours are based on our standard tours, but we can adjust the schedule and walking to suit you and your group.

Our small group Day Tours from Barcelona include pick-up and drop-off at your hotel or residence in Barcelona and friendly and attentive service. Scroll down to see all our Barcelona day tours and be sure to check our testimonials page to hear from happy tour guests

DayTripsBarcelona operates all year. Our small group beach tours are from June to September and skiing tours from December to March. All other tours are available all year. All our professional and friendly guides speak English and Spanish, are passionate about Barcelona and will make sure you have a memorable day out of the city. So why wait? Book a Barcelona small group day trip with us today.

We can also offer pick-ups and drop-offs in Sitges for groups of minimum 4 persons with a extra supplement.



If you have any questions or special requests regarding our small group tours from Barcelona then kindly contact us by e-mail, phone or by filling out our contact form

Saludos de DayTripsBarcelona

#B2 Montserrat Mountain Monastery & Basilica
6hr Day Tour from Barcelona to Montserrat mountains
This 6 hour day tour includes pick-up and transport in air-conditioned mini-van, a mountain train ride, personal guide and 2 33cl bottle water per person. You will see Montserrat mountains, the Benedictine monastery, basilica and Chapel of Our Lady of Montserrat known as "La Moreneta". You can choose to see the Montserrat museum and experience amazing walks on Montserrat mountains. This is one of our most popular tours

Read more / see pictures / book this tour


#B9 Day Tour Andorra and Pyrenees Mountains
Full day tour visiting three countries and crossing two mountain passes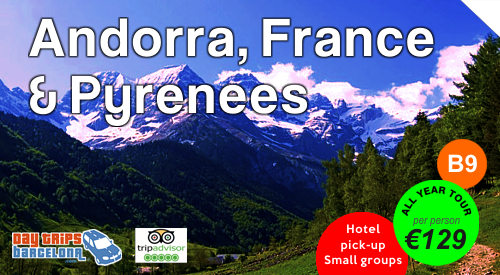 Small group tour to Andorra from Barcelona. Spend a unique and wonderful road trip crossing three country borders and two mountain passes in one day. First we cross the border into France and then drive over two mountain passes to reach the tiny mountain locked country of Andorra. Choose between a number of activities depending on the month and weather including mountain walks, snow mobile and gondola cable car ride.

Read more / see pictures / book this tour


#B3 Montserrat & Wine Day Tour
9hr Day Tour from Barcelona to Montserrat & Winery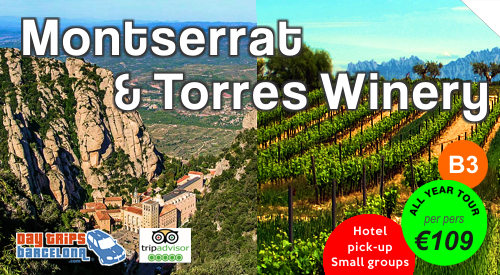 Exclusive 9 hour day tour from Barcelona to magnificent Montserrat Mountain monastery in the morning followed by a lovely afternoon visit to the world famous award winning Bodegas Torres winery.



Read more / see pictures / book this tour



#A1 Half-day tour to Costa Brava beach
Enjoy a trip to a beautiful Costa Brava beaches
This half-day tour includes transport by air-conditioned mini-van, local guide, snorkelling equipment in the summer, 2 bottles of water and loan of parasols. It's a perfect day trip for couples, families and small groups staying in Barcelona. We pick you up at your hotel or apartment and take you in an air-conditioned mini-van to the lovely Costa Brava coast north of Barcelona. The Costa Brava is famous for its beautiful small coves and villages, surrounded by high cliffs and the jagged coastline that has given name to the Costa Brava (Brava means "jagged"). In the summer we go swimming and snorkelling and in the winter enjoy beautiful walks on the spectacular cliffs and in the villages
See the pictures of the Costa Brava beaches below

Read more / see pictures / book this tour



#A2 Full day tour to Girona & Costa Brava
Combine Girona with the Costa Brava in one day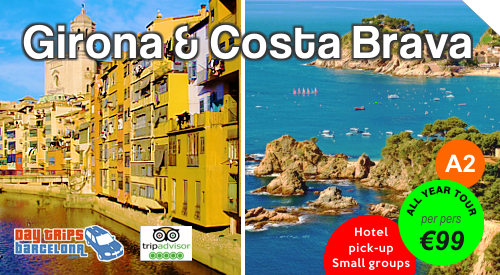 This 9 hour small group Day tour from Barcelona combines a visit to Girona with a visit to the Costa Brava. See historic Girona, the city of sieges, on a walking tour of Girona medieval area and the Jewish quarter, then experience the beautiful Tossa de Mar medieval walled village on the Costa Brava coast.The Costa Brava is famous for its beautiful small coves and villages, surrounded by high cliffs and the jagged coastline that has given name to the Costa Brava (Brava means "jagged").

Read more / see pictures / book this tour



#B4 Roman ruins of Tarragona
6hr Day Tour from Barcelona to Roman ruins of Tarragona
This 6 hour day tour includes pick-up and transport in air-conditioned mini-van to Tarragona, entrance fee to Roman museum, personal guide and 2 bottles water. You will see Tarragona's amphitheatre, ruins of roman wall and visit the Roman museam. In the summer we will stop for a swim on the beach too.

Read more / see pictures / book this tour


#B6 Barcelona Full Day Cava and Wine Tour
9 hour small group day tour from Barcelona to visit Barcelona's scenic Penedes region where world famous wines and sparkling cavas are made. On this tour you will spend a whole day immersed in the world of Spanish wine and cava sparkling wine which was previously called "Spanish champagne."

Read more / see pictures / book this tour



#B10 Half Day Tour to Girona
6hr Half Day Tour to the historic city of Girona
We drive one hour north to beautiful Girona, where we spend 3 hours exploring the old city on foot. We see the charming hanging houses of the Onyar river, then walk through the historic centre of Girona visiting the Rambla, the old Roman road Via Augusta and the maze of narrow streets of the Jewish quarter, once the most important Jewish community in Spain in the middle ages. We walk up to the highest point and visit the spectacular Girona cathedral, then we finish on the medieval city walls to views of Girona and the Pyreneees mountains

Read more / see pictures / book this tour



#B7 Half-day Torres Wine Tour & Sitges
6 hour tour to Torres Winery and Sitges village
This tour starts at the renowned Torres Winery who won best wine tour in Spain award for an exceptional tour of a modern winery with rich traditions. The tour price includes tasting a selection of 2 fine Torres wines. From the vineyards of the Penedes we head south to the Mediterranean coast and the popular and exclusive seaside village of Sitges for a stroll through the old village and perhaps a dip in the summer.

Read more / see pictures / book this tour



#B8 Andorra Snow Day Tour from Barcelona
12 hour tour to the snow of Andorra's mountains
Spend a unique and wonderful day in the snow in the beautiful mountains of Andorra. We offer this tour from mid-December to start/mid April from Mon-Fri. Visit an Andorra skiing village and have fun in the snow. This tour lets you experience snow and try some of the various available snow activites during our stay in Andorra.

Read more / see pictures / book this tour



#B12 Day Tour to the Priorat Wine Region
Full day tour visiting the spectacular Priorat Wine Region
Enjoy a full day in the spectacular rocky hills of the famous Spanish Priorat wine region just 2 hours south of Barcelona. This small and exclusive wine region is one of only two regions to qualify for the highest Spanish wine qualification level DOCa. Denominacion de Origen Calificada is the highest category in Spanish wine law, reserved for wine regions with above-average grape prices and particularly stringent quality controls.

Read more / see pictures / book this tour


#C1 Private Tours for just your group
Private Day tour from Barcelona
We offer private versions of our standard tours only for your family or group. We can adjust the schedule and walking to suit the needs of you and your group. Please note that private tours have the same early pickup time and timetable as standard tours.

Read more / see pictures / book this tour



#S1 Ski/snowboard Day Tour to Masella Ski Resort
Day ski trip to Masella from Barcelona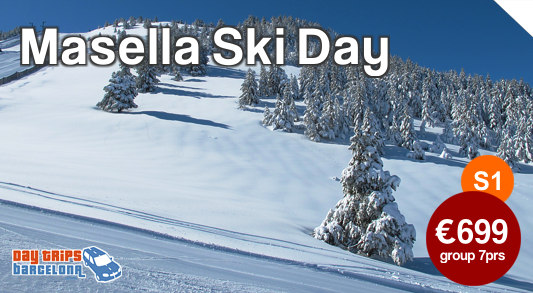 This private day ski trip includes transport by mini-van, private guide who helps you rent skis and can ski with you all day if you like. It's a perfect day trip for friends, families and small groups staying in Barcelona Enjoy a full day of skiing at the lovely mountain ski resort of Masella/La Molina.
Masella and Molina are the popular ski resorts near Barcelona.

Read more / see pictures / book this tour



#S2 Ski day tour to La Molina ski resort
Day ski tour to La Molina near Barcelona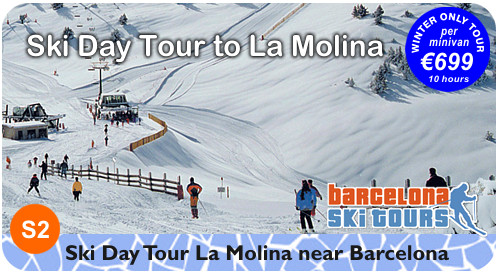 This private day ski trip includes transport by mini-van, private guide who helps you rent skis and can ski with you all day if you like. It's a perfect day trip for friends, families and small groups staying in Barcelona. Enjoy a full day of skiing at the lovely mountain ski resort of La Molina.

Masella and Molina are the popular ski resorts near Barcelona.

Read more / see pictures / book this tour



#S3 Ski day tour to Andorra Grandvalira ski resort
Day ski trip from Barcelona to Andorra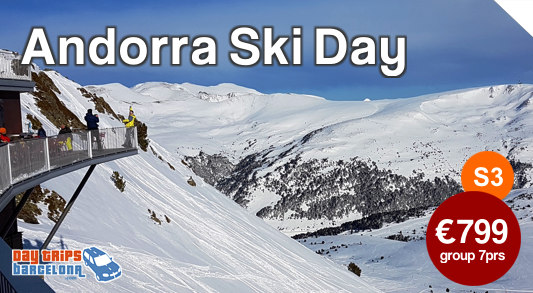 This private ski trip includes transport by mini-van, private guide who helps you rent skis and can ski with you all day if you like. It's a perfect day trip for friends, families and small groups staying in Barcelona. Enjoy a full day of skiing at the extensive mountain ski resort Grandvalira in Andorra.

Read more / see pictures / book this tour


Tags:
Day tours from Barcelona, Small group tours outside Barcelona, Tours with hotel pick-up and drop-off,