B8 Andorra Snow Day Tour includes:
- pick-up and drop off at your hotel/residence in Barcelona
- team of two driver/guides all day
- Small groups of max 6 persons
- snow activities are optional and not included
- skiing or snowboarding is not possible

From our Tripadvisor reviews:


"We really enjoyed our trip, a 5 star services given by Carl who is very knowledgable and his total engagement that makes the trip so fun."
B8 Andorra Snow Day Tour timetable:
Pick-up time: 07.00 at your hotel or apartment
Drop-off time: 19:00 at your hotel or apartment
Duration: 12 hours - 6 hours driving - 6 hours in Andorra
B8 Andorra Snow Day Tour overview
We present our new 2022/23 Andorra Snow Day Tour. Your team of two experienced and friendly tour guides pick you up early at your hotel or apartment in Barcelona in a clean, comfortable minivan and drive you north-west into the Pyrenees Mountains. After a quick breakfast stop in the Pre-Pyrenees mountains, we cross the border into France and depending on the weather, we drive over or under a mountain pass to reach the tiny country of Andorra locked high in the Pyrenees mountain range.

We will spend 6 hours in Andorra's biggest ski area Grandvalira to experience snow and exciting snow activities. Guests can choose one or two snow activities in Andorra. Possible activities are snowmobile excursion, snow shoe trek, dog mushing or snow-tubing. These activities are generally available from mid December to early April during the snow season but activities can vary depending on snow levels. Building snowmen and snowball fights are free :-) Other snow activities are not included in standard tour price. There is time for a short 30 minute stop at Pas de la Casa for shopping, but please note that this is not a shopping tour.

Please note that ALL guests must wear warm winter clothes including jacket, hat, gloves and warm waterproof boots/walking shoes. For your own safety and comfort do NOT book this tour if you do not have winter clothes and warm waterproof boots/walking shoes. The guide team will NOT allow guests in summer clothes, summer shoes or sneakers to join the tour at the pick-up.


B8 Andorra Snow Day Tour special considerations
* All guests must wear/bring warm winter clothes, hat, gloves, and warm waterproof boots/walking shoes for walking in the snow.
* Please note: optional snow activities are NOT included in standard tour price. See prices of snow activites further down this page.
* Kkindly note that skiing or snowboarding is NOT possible on this day tour.
* A normal level of fitness is required.
* Children must be 4 years on private tours and 1 mtr (3 ft 3 in tall) and able to sit on a child booster seat with adult seat belt for the entire duration of the driving time.
* We will send you a weather update on the day before your tour and tips on what to wear.


HEALTH and WALKING:
This tour includes some short uphill walking. Pavements are usually slippery and icy. Sorry, we cannot bring wheelchairs. This tour is not recommended for guests with reduced mobility or walking difficulties.
PRICE: B8 Andorra Snow Day Tour
Private Tour Price 2022/23

6 persons €894 total
5 persons €745 total
4 persons €596 total
3 persons €596 total
2 persons €596 total
1 person €596 total


Included in B8 Andorra Snow Day Tour price:
- pick-up & drop off at your hotel/residence in Barcelona
- team of 2 driver/guides
- blankets and cushions in minivan for naps during transport
- free water in mini-van

Not included in tour price:

- meals/snacks (€20-30 per person)
- optional snow activity rentals (see prices below)

B8 Prices Optional snow activities (Prices are approximate)
(Note: some activities may not be available depending on weather)
Price snowmobile excursion with guide
€80 - 30 minutes on 1 snowmobile (seats 2 pers)
€120 - 60 minutes on 1 snowmobile (seats 2 pers)
ONLY adults over 18 years can drive snowmobile
Minimum age for children 5 years old, if with adult
Helmets are provided for snowmobile and are COMPULSORY
Price mushing dog sled ride
Mushing sled dog ride 2 km (30 minutes)
€80 per person
Minimum age children 5 years old with adult
Price snowshoe excursion
Snowshoe excursion 2 hours
€36 per person
Minimum age children 10 years old
Price snow tubing slide
Snowtubing 20 minutes
€20 per person (cannot be shared)
Snowtubing 40 minutes
€30 per person (cannot be shared)
IMPORTANT!
Snowtubes cannot be shared.
One snow tube ride must be ordered for each person
Clothes you must wear for snow activities
Waterproof warm ski or winter clothing
Waterproof warm snow or mountain boots
Waterproof snow gloves and
Warm cap
Sunglasses
Sunscreen lotion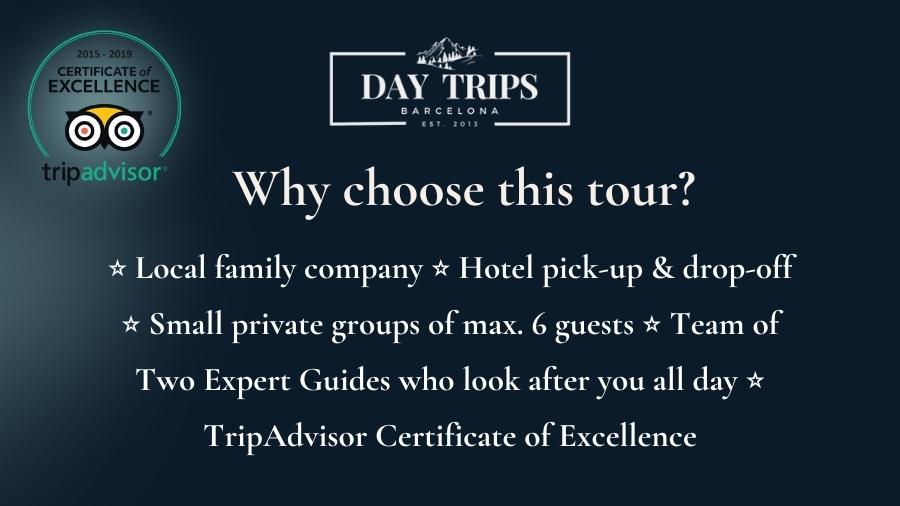 How to book B8 Andorra Snow Day Tour
Places are very limited because of our small group size. Booking is possible until 48 hours before a tour, but we ask that you book in advance to have the best chance of getting places.

To inquire about places please fill out the booking inquiry form below. When we have received your booking inquiry, we will check availability and contact you. Then to confirm your places and guarantee your tour, we ask that you pay a deposit of the tour amount by credit card.

Photos from our B8 Andorra Snow Day Tour taken by our guides
---
B8 Andorra Snow Day Tour - From €596
Booking and Tour Terms & Conditions:
1) Reservations are usually confirmed within 12 hours by email.
2) We do not offer family, children or group discounts because our groups sizes are very small
3) Children must be minimum 4 years of age for private tour.
4) Many of our tours have several hours of walking, so a normal level of fitness is required. Our tours are not suitable for people with bad hips or knees or other mobility impairments. It is the responsibility of the person booking to inform us of any special needs or health issues including walking difficulties or fitness issues.
5) We do not offer tours to wedding stag groups or groups in fancy dress
6) Tours are non-alcoholic and non-smoking during transport
7) No picnics or food, sweet fizzy drinks and alcholic drinks or snacks can be consumed in the minivan.
8) Only water can be consumed in minivan. are not permitted
9) Tour prices do not include meals and snacks and snow activity rentals
10) Tours are only in English language
11) We reserve the right to cancel the tour and make a full refund if the weather forecast is for snowstorms.

Refund policy and full Terms and Conditions:
* Full refund up to 7 days before tour (unless we cancel due to snowstorms in which case customers will receive a full refund)
* Please check our refund policy and our full terms and conditions here before booking: Full Terms and Conditions
Other popular DayTripsBarcelona tours:
Girona Private Tour!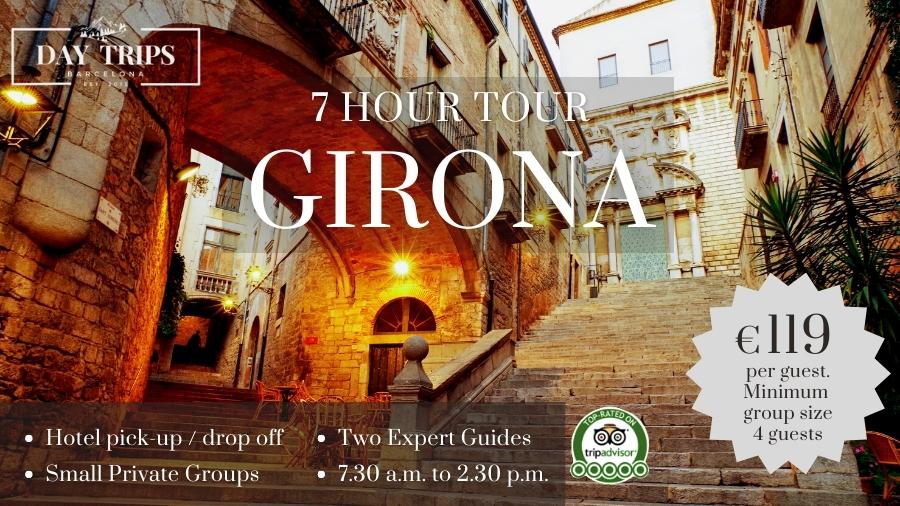 7 hour Private Girona tour from Barcelona. Experience a historic walking tour of Girona's medieval area including the ancient 'Call' Jewish quarter, Roman walls, Girona's Hanging Houses, all the Game of Thrones TV filming locations and Girona Cathedral.
Tarragona Private Tour!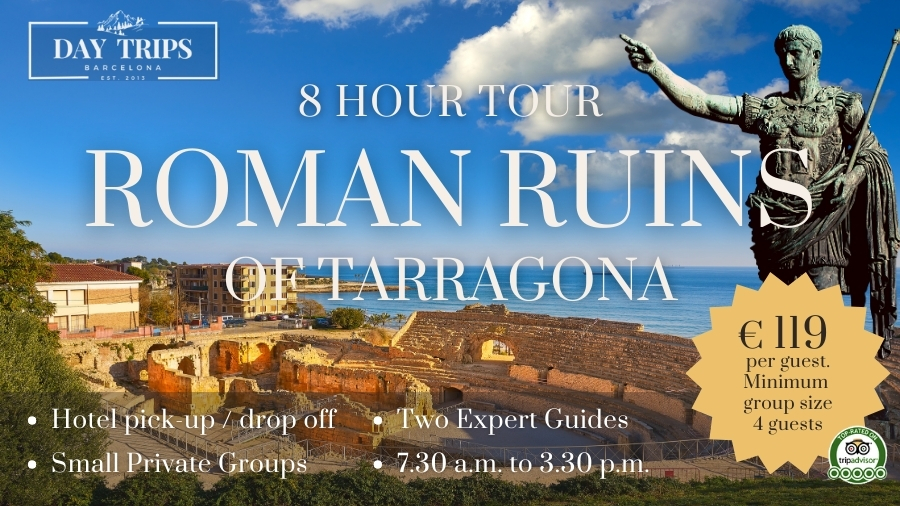 This tour visits UNESCO World Heritage Tarraco Roman ruins of Tarragona in a wonderful day of history spanning 2000 years. Tarraco (Tarragona) was the most important Roman city outside Rome in ancient times and on this walking tour you will see the remains of the Roman aqueduct, the Roman walls, the Roman amphitheatre, where gladiators fought to the death and the Roman circus, where chariots once raced.
Montserrat Private Tour!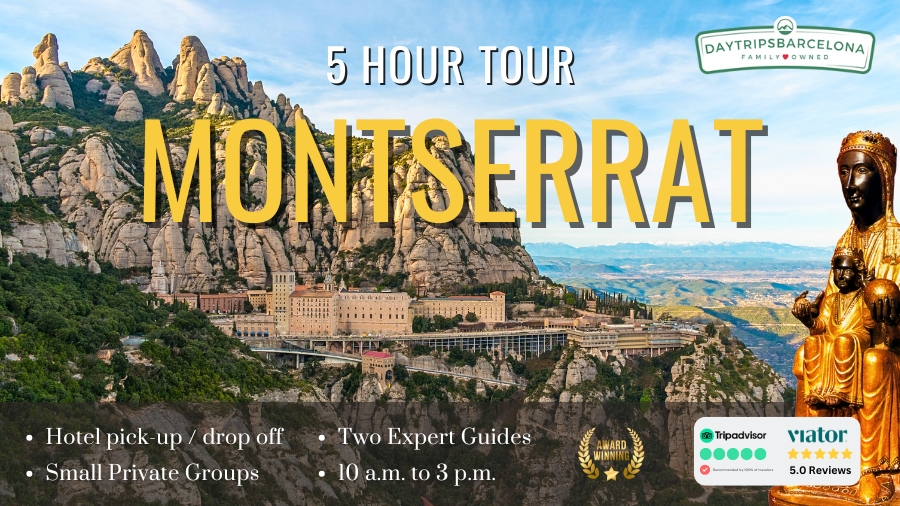 Private tour from Barcelona to Montserrat with comfortable 10 am personal hotel/apartment pick-up and late afternoon drop off in private group of maximum 6 persons with 2 guides. See the spectacular beauty of the UNESCO World Heritage site Montserrat mountain, monastery and basilica situated 1 hour from Barcelona.