South of France Tour includes:
- pick-up and drop off at your hotel or residence
- free transport in comfortable minivan
- free water in minivan
- 2 English speaking guides
- Private groups only of max 6 guests
From our Tripadvisor reviews:


"This was by far one of the best guided tours I have ever done."
South of France Tour timetable:
Pick-up time: 07.30 at your hotel or apartment
Drop-off time: around 19.30 at your hotel or apartment
Duration: 12 hours: around 6 hours driving and 3 hours walking.
B7 South of France tour overview
Our signature B7 South of France private tour has an early 7.30 am personal hotel pick-up and early evening drop off at your hotel or apartment in Barcelona.

Your guides pick you up early at your hotel or apartment in Barcelona. We drive north from Barcelona and cross the border into France. After a short breakfast stop on the way, we arrive at the beautiful French seaside village Collioure in the Languedoc-Roussillon district which is famous for its scenary and wines. Collioure has its own wine AOC - Appellation d'Origine Contrôlée and many small boutiques in Collioure offer wine tastings of local wines. The beauty of Colliure has always attracted and inspired artists, among them Matisse, Picasso, Dufy, Derain, Rennie McIntosh and Maillol.
You can see reproductions of Matisse and Derain's works at the actual locations where they were painted and the village has many small galleries with contemporary artists who still flock to Collioure. In the summer guests can have a dip in the clear warm Mediterranean waters. From Collioure we travel back towards the Spanish border following the coastal wine route with panoramic views of the south of France and Catalan Costa Brava coastline.
This is where France meets Spain and where the Pyrenees meet the Mediterranean sea and the steep terraced vineyards can only be worked entirely by hand. After the tour through the wine country we head inland and back to Barcelona.
See two countries in one day and experience the beauty of the Pyrenees mountains, the south of France, terraced vineyards and the Costa Brava.
Photos from our Barcelona to South of France tour taken by our guides
B7 South of France Tour special considerations
* Guests should wear walking shoes or trainers, not flip flops, sandals or high heels.
* A normal level of fitness is required.
* Children must be 4 years on private tours and 1 mtr (3 ft 3 in tall) and able to sit on a child booster seat with adult seat belt, as required by Spanish law.

HEALTH and WALKING:
The standard tour is not recommended for guests with reduced mobility or walking difficulties. It includes around 3 hours of walking on paths with quite steep inclines and some steps. Sorry, we cannot bring wheelchairs on tours.
Price B7 South of France tour
Price per person is €149
in group of 4
6 guests - € 894 total
5 guests - € 745 total
1 to 4 guests - € 596 total
Included in B7 South of France tour price:
- pick-up and drop off at your hotel/residence in Barcelona
- free water in comfortable air-conditioned minivan
- walking tour of Collioure in France and the medieval royal castle
- 2 English speaking guides who stay with you all day

Not included in B7 South of France tour price:
- breakfast and lunch (around €30 per person)
- Only available Monday to Friday
- Sorry, no cruise ship pick-ups or transfers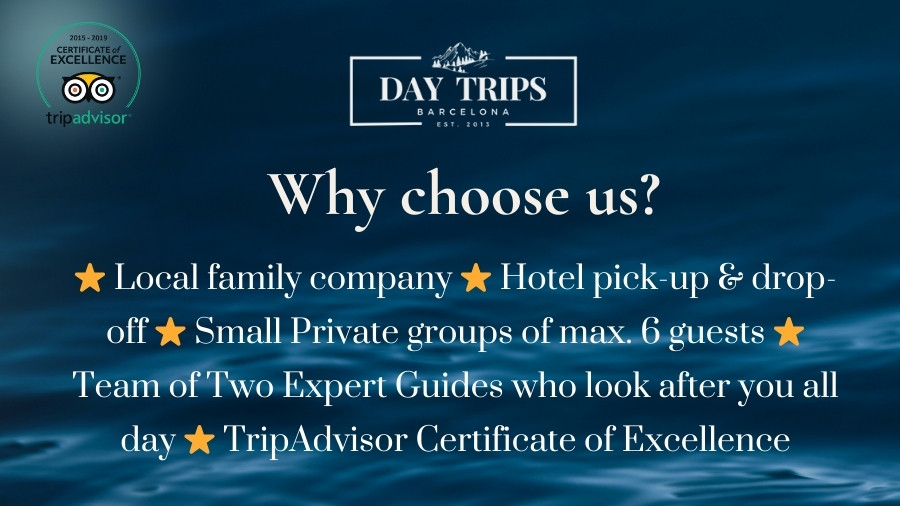 How to book B7 South of France tour
Places are very limited because of our small group size. Booking is possible until 48 hours before a tour, but we ask that you book in advance to have the best chance of getting places.

To inquire about places please fill out the booking inquiry form below. When we have received your booking inquiry, we will check availability and contact you. Then to confirm your places and guarantee your tour, we ask that you pay a deposit of the tour amount by credit card. You can also choose to pay the full tour amount in advance if you prefer.


---
B7 South of France tour - from € 596

Booking and Tour Terms & Conditions:
1) Reservations are usually confirmed within 12 hours by email.
2) We do not offer family, children or group discounts because our groups sizes are very small.
3) Children must be minimum 4 years of age for private tour.
4) Many of our tours have several hours of walking, so a normal level of fitness is required. Our tours are not suitable for people with bad hips or knees or other mobility impairments. It is the responsibility of the person booking to inform us of any special needs or health issues including walking difficulties or fitness issues.
5) We do not offer tours to wedding stag groups or groups in fancy dress
6) Tours are non-alcoholic and non-smoking during transport
7) Picnics are usually not possible on a tour and we kindly ask that drinks, food or snacks are not consumed in the minivan to avoid stains.
8) There is free water in the minivan throughout the tour.
9) Tour prices do not include meals and snacks
10) Tours are only in English language
Refund policy and full Terms and Conditions:
* Full refund up to 7 days before tour
* Please check our refund policy and our full terms and conditions here before booking:
Full Terms and Conditions