Montserrat EXPRESS Tour includes:
- pick-up and drop off at your hotel or residence
- free transport in comfortable minivan
- free water in minivan
- English speaking guide
- Small groups of max 7 persons
From our Tripadvisor reviews:


"My family had a wonderful trip to Montserrat. Carl our guide was excellent as he guided us at the correct times so as to avoid the crowds."
B2X Montserrat EXPRESS Tour duration
Pick-up time 7:30am at your hotel or residence
(7.15 pick-up in summer to avoid queues)
Drop-off time around 11:30 at your hotel or residence
Sorry, no cruise ship pick-ups or airport transfers
Total tour time including transport is 4 hours of which 2 hours driving and 1.5 hours walking
B2X Montserrat EXPRESS Tour overview
Montserrat mountain is one of Barcelona and Spain's most popular tourist attractions with breathtaking scenery, unique rock formations and panoramic views of the Catalan countryside. This historic monastery has been perched at 726 metres height on Montserrat mountain for almost a thousand years.
Our Montserrat early access Express tour visits the basilica and sanctuary of the Virgin Mary of Montserrat with shrine of the Black Madonna sculpture "La Moreneta" - also includes a walk around the monastery. We finish with breakfast (not included in tour price) and a visit to the monastery souvenir store.
Please note for earlier summer pickup of 07.15 to avoid lines in high season
(Please note that this short BX Express tour does not include time to hear the boys choir sing at 1pm - or long hikes. A short ride on funicular is possible. Please book our 7 hr B2M Montserrat Tour to include choir and hikes)
Scroll down page for more photos of this tour.

B2X Montserrat EXPRESS special considerations
* Guests should wear walking shoes or trainers, not flip flops, sandals or high heels.
* A normal level of fitness is required.
* This short tour does not include hearing the boys choir at 1pm - or long hikes in natural park.
* Children must be over 8 years old on standard tours
* Children must be over 4 years old on private tours and 1 mtr (3 ft 3 in tall and able to sit on a child booster seat with adult seat belt for the entire duration of the driving time.

HEALTH and WALKING:
The Express tour is not recommended for guests with reduced mobility or walking difficulties. It includes around 45 minutes of walking on paths with gentle inclines and some steps. Sorry, but we cannot bring wheelchairs on standard or private tours.
Price B2X Montserrat Mountain & Basilica EXPRESS tour
Price per person is €69

Prices 2 to 7 persons are:
7 persons - € 69 per person = €483
6 persons - € 69 per person = €414
5 persons - € 69 per person = €345
4 persons - € 69 per person = €276
3 persons - € 69 per person = €207
2 persons - € 69 per person = €138
Nb! Minimum 4 guests needed to schedule tour
Sorry, no 1 person bookings/pickups
Included in B2X Montserrat EXPRESS tour price:
- pick-up and drop off at your hotel/residence in Barcelona
- free transport in air-conditioned minivan
- guided tour of the monastery
- free water in minivan

Not included in B2M Montserrat half-day tour price:
- breakfast (approx €5. You will return to Barcelona in time for lunch)
Hiking, funicular or boys choir (choose the B2M Montserrat tour that includes those options)
How to book B2X Montserrat EXPRESS tour
Places are very limited because of our small group size. Booking is possible until 24 hours before a tour, but we ask that you book in advance to have the best chance of getting places.
To inquire about places please fill out the booking inquiry form below. When we have received your booking inquiry, we will check availability and contact you. Then to confirm your places and guarantee your tour, we ask that you pay a deposit of the tour amount by credit card. You can also choose to pay the full tour amount in advance if you prefer.
TIP: To guarantee departure, book a private tour for just your group: tick the "Make this a private tour" box in the booking form below.
Photos from our Montserrat EXPRESS Tour from Barcelona taken by our guides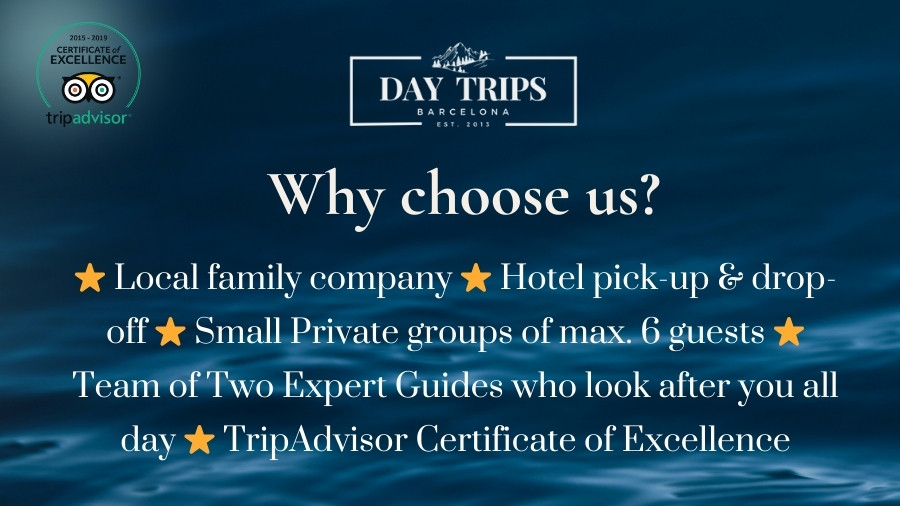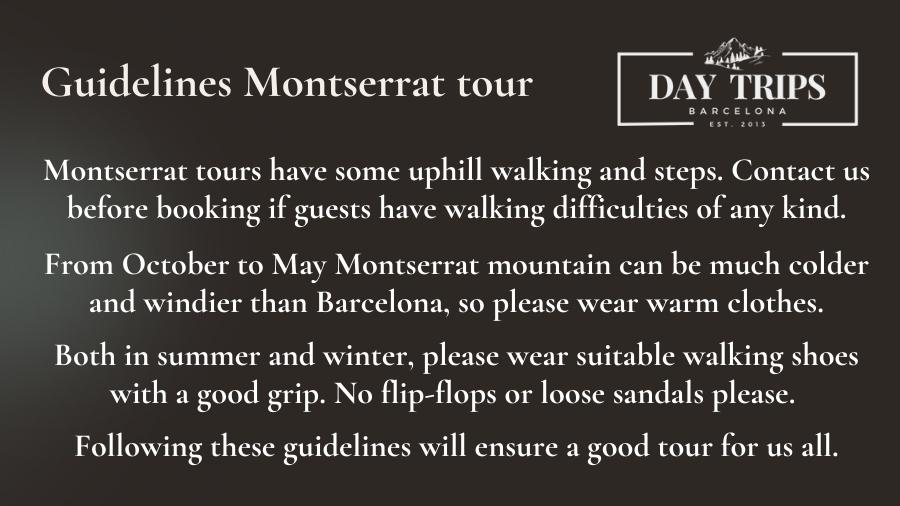 ---
B2X EXPRESS tour to Montserrat Mountain & Basilica - € 69 per person

We are very sorry, but this tour is not available until 2023.
Our company is in a transition period following 2 years of the Covid pandemic.
In 2022 we only offer day tours from Barcelona to Andorra
Thank you for your understanding.
Booking and Tour Terms & Conditions:
1) Reservations are usually confirmed within 12 hours by email.
2) We do not offer family, children or group discounts because our groups sizes are very small, from 2 to 7 guests. Sorry, no 1 person bookings.
3) Children must be minimum 8 years of age for all standard tours and 4 years of age for private tour. Contact us for private tours
4) Many of our tours have several hours of walking, so a normal level of fitness is required. Our tours are not suitable for people with bad hips or knees or other mobility impairments. It is the responsibility of the person booking to inform us of any special needs or health issues including walking difficulties or fitness issues.
5) We do not offer tours to wedding stag groups or groups in fancy dress
6) Tours are non-alcoholic and non-smoking during transport
7) No picnics and food or snacks cannot be consumed in the minivan.
8) Only water can be consumed in minivan. Sweet fizzy drinks and alcholic drinks are not permitted
9) Tour prices do not include meals and snacks
10) Tours are only in English language
Refund policy and full Terms and Conditions:
* Full refund up to 7 days before tour
* Please check our refund policy and our full terms and conditions here before booking:
Full Terms and Conditions