#S2 Ski day tour to La Molina ski resort near Barcelona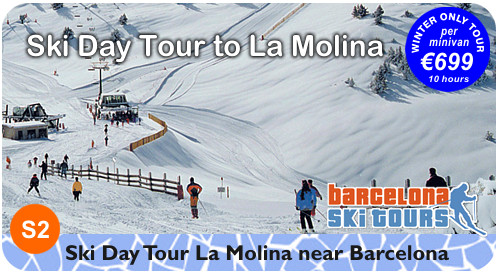 S2 Day Ski Tour to La Molina ski resort Barcelona.

Private 1 day Ski Tour in mini-van with guide from Barcelona with hotel/apartment pick-up and drop-off in Barcelona. Minivan seats maximum 7 persons. (Sorry - no multiple day tours.)

Important! This tour is only suitable for intermediate or advanced skiers and/or snowboarders, who bring their own ski clothes. We do not offer tours to beginners and we do not rent ski clothes. Skis, ski-sticks, helmets, ski-boots and snowboards are available to rent at LaMolina ski station. It is not possible to rent ski clothes.

If you do not ski, but would like to experience the joy of being in the snow and the beauty of the snow-covered Pyrenees mountains in winter, then why not book our
B8 Andorra Snow Day Tour from Barcelona

Duration of S2 Day Tour to La Molina: 12 hours total, which includes approx 5-6 hours alpine skiing at La Molina ski area. The driving time to La Molina from the centre of Barcelona is approx 2 hours – including a brief stop on the way.

This ski tour operates from the middle of December until early April depending on snow conditions. The tour can be cancelled at the last minute if weather/driving conditions are unsuitable.

Enjoy a full day of skiing at the lovely mountain ski resort of La Molina. La Molina is a popular ski resort and one of the closest places to ski near Barcelona. Your guide will help you rent skis and get your lift passes. If you like, your guide can ski with you and show you the slopes. La Molina ski station has a skiable area of 60 km with 53 ski pistes: 13 green runs, 16 blue runs, 17 red runs and 7 black runs. Elevation is from 1700 to 2445 m.

La Molina is next to the ski resort of Masella and the two ski areas are connected under the name "Alp2500." This ski trip starts at La Molina, but you can choose a ski pass that gives access to both ski areas.

Together the two resorts offer a fantastic day of skiing. Both La Molina and Masella have an extensive snow canon system, which means that even when the temperature in Barcelona is warm, there is good coverage of natural or artificial snow. Your guide will help you rent skis, help with lift passes and give you an introduction to the ski area if you wish.

Click to BOOK THIS TOUR

If you have questions contact us here